ภาพกรรมการบริหารของสมาคม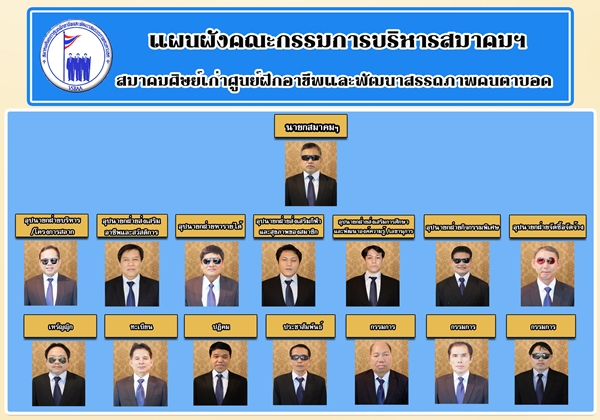 From the current board of directors being allowed to register from the Nonthaburi Provincial Registrar Association
On January 4, 1973, there were 15 committees as follows:
Mr. Sawian Ngamsang, President of the Association
Dr. Nitchan Supina, Vice President for Administration
Mr. Amnuay Suwannarungsikun, Vice President for Career Promotion and Welfare
Mr. Somwang Phuekphiphat, Vice President for Revenue
Mr. Manop Takhiankam, Vice President, promotes sports and health of members
Mr. Noppadon Khemaratana, Vice President for Education and Knowledge Development/Secretary
Mr. Phichai Phochai, Vice President for Special Activities
8. Mr. Phusit Kittisares, Vice President of Procurement
Mr. Sawong Nuan-on, Treasurer
Mr. Kanaphat Jong-onchei, Member registration
Mr. Chokchai Khamphothong, Hostess
Mr. Chanwit Apiwong, Internal Communication
Mr. Vicha Teeniwongsa, Director
Mr. Thanisorn Panichkochakorn, Director
Mr. Khwanchai Singsu, Director
The operation and structure of the association
The association is managed by a committee.  Which is blind in the form of the Executive Committee, ranging from 7 persons, but not more than 15 persons, is in the term of 4 years each time (In the first establishment, the committee is on a two-year term but has changed in 2007, which allows the board to be in the 4 year term)  As well as the association staff be part of the administration according to the authority and duties specified in the regulations and regulations of the association with the following structure
Management has a duty regarding administrative work, Finance and accounting, Hostess work, Member registration, Which has 3 staff members who are assistants to the Executive Committee and provide services to members.
Revenue department is responsible for earning income to support the association's activities.
Lottery Project Department is responsible for allocating the government lottery to members in order to take careers.
Welfare Department is responsible for providing welfare to members.
Professional promotion and development department is responsible for promoting knowledge in occupations and providing funds for members to borrow for careers
Sports Promotion Department is responsible for managing the sporting events of members in order to be healthy.
Education Promotion Department is responsible for organizing projects to increase knowledge skills that are beneficial to members.
Special Activities and Public Relations Department is responsible for organizing activities on various important days and disseminating is the honor of the association for the members and the general public widely.
Department of Policy and Planning has a duty to create an annual budget and various operational plans of the association.
Consultant have a duty to consult introduce the Executive Committee so that the operation of the association is in accordance with the goals and objectives.
—————————————————————————